Following the devastating Marmara earthquake in 1999, Turkey mandated earthquake insurance for all property owners, regardless of nationality. Property owners in Turkey are required by law to purchase insurance against earthquakes, which covers the costs of restoring damage caused by earthquakes or any natural disasters. 
While requiring private construction firms to meet seismic safety standards, the Turkish government ensures that any dangerous structures will be demolished and replaced in accordance with current standards. All of Turkey's buildings have also been subjected to a detailed earthquake resistance assessment by the Turkish government.
What is DASK Earthquake Insurance?
DASK is the Foundation for Natural Disaster Insurance, which was founded by the Turkish government in 2012 to be the entity to which earthquake insurance fees are paid in Turkey and which is administered by the Turkish Ministry of Finance. Here is a sample of DASK insurance policy: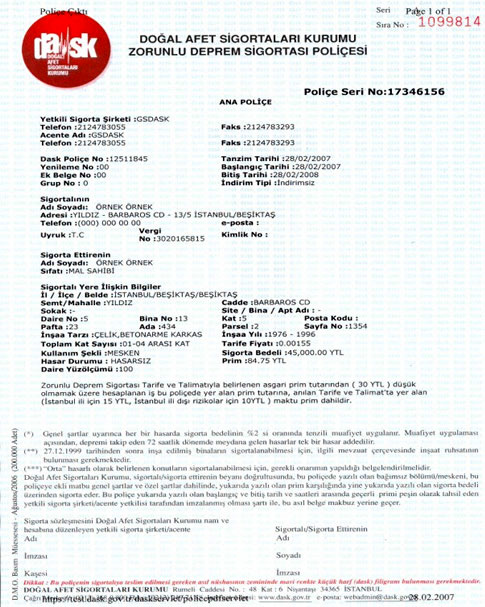 Who Should Pay Earthquake Insurance?
In Turkey, property owners pay for earthquake insurance, and they do so also on behalf of tenants residing in their property.
Why You Need to Pay Earthquake Insurance When Buying Property in Turkey
It is necessary to have the document DASK to open water, electricity, and gas utility subscriptions as this is only allowed after paying a certain amount for an earthquake insurance policy for the first time, and the property owner or the tenant can apply for opening these utility subscriptions after receiving the copy of the seismic insurance policy DASK, which is determined by the DASK Foundation.
Where to Pay Property Insurance Against Earthquakes?
Paying for earthquake insurance coverage can be done at a bank, post office, or an insurance company in Turkey.
The Aim of Imposing Earthquake Insurance in Turkey
The following are some of the benefits of earthquake insurance in Turkey:
To make all of Turkey's houses earthquake-resistant.

Ascertain the building's safety and seismic resistance, which decreases the risk of damage from earthquakes.

Participate in the financial burden that citizens may face in the case of earthquake damage.

When such calamities strike Turkey, real estate owners face low expenses.

Reducing the state's burdens in the event of an earthquake and establishing a permanent fund for emergency situations.

Facilitate the creation of robust, anti-seismic constructions in Turkey.

Increasing the general public's understanding of the significance of insurance
How Does Earthquake Insurance Cover Your Expenses in Case of Property Damage?
Property features such as all primary walls, separating walls, garden walls, ceilings, floors, staircases, elevators, walkways, roofs, property entrances, and higher portions supplementing construction are all covered under earthquake insurance.
This insurance includes covering the costs of moving debris, lost wages or rental interruption, expenditures of relocating to a new house or new job, any losses arising from damage to furniture, baggage, and valuables, bodily and psychological damages, and fatalities if they are documented later in the case of damage.
How is the Cost of Earthquake Insurance Determined?
The cost of the earthquake insurance fee, which is approximately $15 per year, is determined by a number of criteria, the most important of which are the building site, its design, age, location, and other minor elements that vary in every property.
Types of Properties Included in Earthquake Insurance
In Turkey, earthquake insurance covers the following properties:
Properties meant for residential use, such as flats, villas, and residential complexes, are registered with the Turkish Land Registry Office.

Properties intended for use as offices and office buildings that have been registered with the Turkish Land Registry Office.

Roofs, garages, utility facilities, and other areas of the floor are subject to property law.

Properties are constructed by the Turkish government for public use or given to the community in the event of a natural disaster.

Properties that comply with construction rules but lack a description of whether commercial or residential.

Properties with a floor easement are currently under construction but fulfill the criteria of the building and real estate records and hold the title of floor easement.
Types of Properties Not Included in Earthquake Insurance
Specific properties are not covered by earthquake insurance in Turkey, and they are listed below:
Any property that is constructed in violation of Turkish legislation.

Abandoned properties that are not suitable for residential use.

Properties that have received demolition notifications or warnings from the Turkish government.

Properties that have been built without an engineering plan or construction project.

Rural properties that do not obtain building permits and are not subject to modern building legislation in Turkey.

Independent properties and sections that are subject to Public Housing Law No. 2946 of 9/11/1983, or used as buildings for public service.
Do Construction Companies Guarantee Earthquake Protection to Foreign Property Investors?
In Turkey, construction companies are legally required to create earthquake-resistant structures, and if they fail to do so, they are liable to the investor. Many construction businesses specify the characteristics of the structures, the materials used in their construction, and the degree of their earthquake protection in sales contracts. The majority of residential structures are designed to survive earthquakes of magnitude 8 on the Richter scale, whereas large buildings and important infrastructures such as airports, bridges, and metro stations are designed to withstand earthquakes of magnitude 9.
---
Note: The prices and figures mentioned above may vary depending on the date and city. Last updated: 15.02.2022