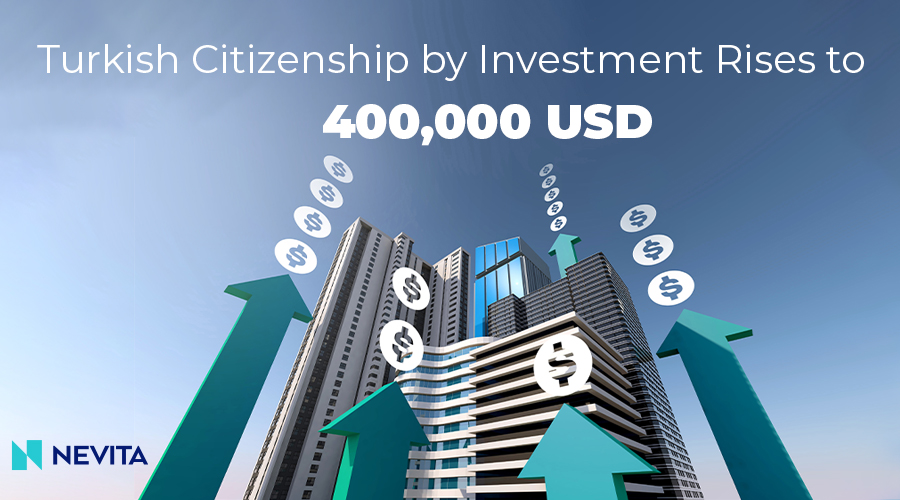 During a recent ministerial meeting on the 12th of April, 2022, Turkey's Presidential Cabinet decided to increase the minimum investment requirement for the real estate option of its citizenship by investment program from 250,000 USD to 400,000 USD, which was announced the next day by the Minister of Interior.
The government intends to change paragraph 2, clause "b" of the 20th article of the Regulation on the Implementation of the Turkish Citizenship Law to increase the minimum investment amount required for real estate investments. In addition to the requirement of submitting an annotation declaring that the bought property cannot be sold for a period of 3 years.
The new rules will take effect immediately upon publication in the Official Gazette, which is likely to occur in the coming days.
Turkey's citizenship offer has long been the most attractive, straightforward, and cost-effective option available anywhere in the world. The Citizenship by Investment program in Turkey has been a huge success, attracting a large number of international investors and generating significant revenue for the Turkish government.
Even with the threshold increase of 400,000 USD, this pricing is still far less expensive in comparison to other countries offering equal citizenship investment alternatives. Moreover, let's not forget that the 250,000 USD pricing was first established in 2018 and when adjusting it for inflation, it now equals 350,000 USD approximately.
Turkish economic growth in the real estate industry is expected to profit from this new policy, which is of great advantage for both investors and the country's economy as a whole.
* Update on 13.05.2022: The decision was published in the Official Gazette on 13.05.2022! Until 13.06.2022, the minimum property value for Turkish citizenship will remain at 250.000 USD and the new regulation will be effective from this date.
Visit our "Turkish Citizenship by Investment" page to get detailed information.
Further Reading…