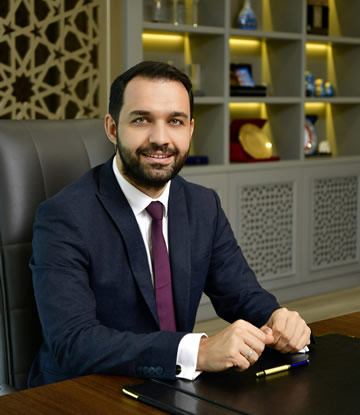 Faruk Akbal, who completed his undergraduate education in Business Administration, completed his master's degree in "Marketing and Management" at Bournemouth University in England with his thesis titled "The Importance of Customer Perception in Brand Expansion Strategies" and he is currently doing his Ph.D. on Management and Organization at Istanbul Commerce University.
After returning to Turkey, he took part in the team that carried out the marketing and management operations of Kiralama ve Danışmanlık Merkezi, one of the leading companies in the retail sector, between 2011-2012. Akbal, who started his duty as a member of the board of directors at Fuzul Group in 2012, was appointed as the CEO of Nevita International, which was established within the Fuzul Group in 2014 and took on the responsibility of fulfilling the task of attracting investments from abroad to Turkey. Nevita's overseas sales, together with its direct and indirect activities, played an important role in bringing 1.1 billion USD worth of foreign currency to Turkey in the past 8 years.
Akbal, who has been on the board of directors of Young MUSIAD since 2008, served as the Vice Chairman for 4 years and as the Chairman between 2013-2015. Between 2015-2019, he was a member of the MUSIAD Headquarters Board of Directors. Faruk Akbal, who was elected as the President of the Turkey-Jordan Business Council at the Foreign Economic Relations Board DEİK in January 2018 and appointed as the Vice President of the Middle East region, started his duty as the founding chairman of the Real Estate International Promotion Association (GİGDER) in February 2020. Akbal is fluent in English and speaks some Arabic.