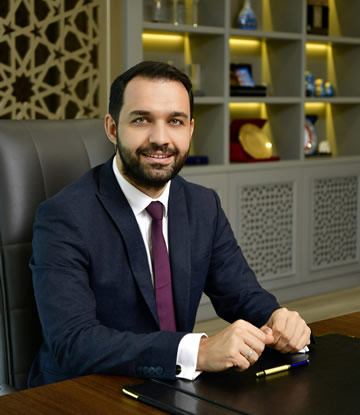 Nevita CEO Ömer Faruk Akbal completed his bachelor's degree in business administration and graduated in 2011 with his thesis titled "The Importance of Customer Perception in Brand Expansion Strategies" to complete his master's degree in "Marketing and Management" at Bournemouth University in England. He is currently doing his PhD in "Management and Organization" at Istanbul Commerce University.
Since 2008, he has served as the Deputy Chairman of the Young MUSIAD board of directors. Between 2011 and 2012, he took part in the team that carried out the marketing and management operations of the Rental and Consultancy Center, one of the leading companies in the retail sector. In 2012, he started to work as a member of the board of directors at Fuzul Holding, and in 2014 he was appointed as the CEO of NEVITA, which was established within Fuzul Holding, and took on the responsibility of fulfilling the task of attracting investments from abroad to Turkey.
Between 2013 and 2015, he served as the President of Genç MUSIAD. Between 2015-2019, he was a member of the MUSIAD Headquarters Board of Directors. In January 2018, he was elected as the President of the Turkey-Jordan Business Council at the Foreign Economic Relations Board DEİK and started to work as the Middle East region coordinator vice president.
Ömer Faruk Akbal continues to steer the real estate sector as the CEO of Nevita, the real estate investment company that is Turkey's flag carrier in global real estate sales with more than 4,000 business partners.