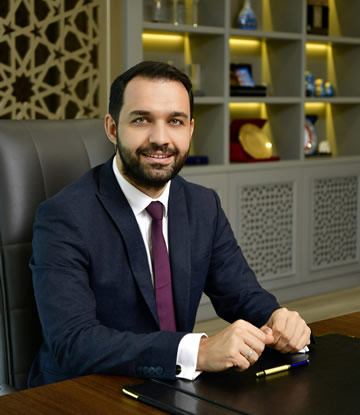 Ömer Faruk Akbal
M: +905558599990
E: farukakbal@fuzul.com.tr
Birth Date: 24/08/1987
Istanbul/Turkey
Faruk Akbal, who was born in Konya, completed his Bachelor's Degree in Business Administration. Afterward, Mr. Akbal started his master's degree in "Marketing and Management" at Bournemouth University in the United Kingdom, and he graduated in 2011 with a thesis titled "The Importance of Customer Perception in Brand Expansion Strategies." He is currently pursuing his Ph.D. in Management and Organization at Istanbul Commerce University.
After returning to Turkey, he took part in the team that carried out the marketing and management operations of the Rental and Consultancy Center (KDM), which is the leading retail sector and has more than 30 Shopping Centers, during the years 2011-2012.
Returning to family businesses, Mr. Akbal was appointed as the Member of the Board of Directors of Fuzul Holding in 2012. In 2014, Mr. Akbal was appointed Ceo of Nevita International, a company of Fuzul Holding that will be responsible for luring foreign real estate investments to Turkey.  Nevita's overseas sales, together with its direct and indirect activities, played an important role in bringing in over $2 billion in foreign currency to Turkey in the past 9 years. Nevita, which currently operates with an exclusive portfolio size of $2.5 billion and serves Turkey's most reputable institutions, including Galatasaray, has made significant efforts to help Turkey become the flag carrier in attracting foreign investors.
Faruk Akbal, who has been closely interested in the idea of new-generation accommodation in recent years, took part in the establishment of Newinn company with Fuzul Holding's decision to invest in this field and is a member of the Board of Directors.
Mr. Akbal, who was also actively involved in civil society projects, was elected General President of Young MUSIAD in March 2013 and served in that role until March 2015.
Mr. Akbal was re-elected as a Member of the MUSIAD Headquarters Board of Directors at the General Assembly in April 2015 and transferred over the duty at the 25th Ordinary General Assembly in May 2019. Faruk Akbal has been the President of MUSIAD Karz-I Hasen since September 11, 2021.
In January 2018, Mr. Akbal was elected as the President of the Turkey-Jordan Business Council at the Foreign Economic Relations Board( DEİK) and was appointed as the Vice President of the Middle East regional coordinator.
Mr. Akbal was appointed as the Founding President of the Real Estate Overseas Promotion Association in February 2020.
Mr. Akbal, who is married and has two daughters, enjoys traveling and reading while also being interested in history, politics, and economics. He speaks advanced English and medium-level Arabic.