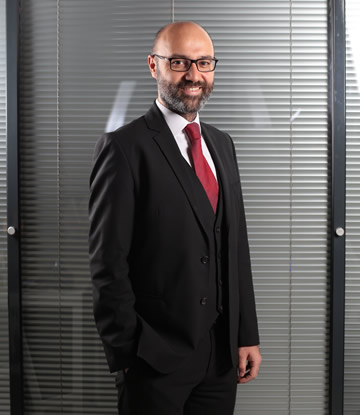 After graduating from Ankara Gazi Anatolian High School in 1998, he attended the Middle East Technical University, Faculty of Architecture, Department of City and Regional Planning and graduated in 2004.
He served as Ankara Branch President between 2000-2001 at AEGEE (European Student Forum) and as a Member of the Central Executive Board in Brussels between 2001-2002. Between 2004 and 2005, he worked as the Project Coordinator of the European Union Turkey Youth Council. Until 2009, he worked as an International Projects Specialist at Turkish Education Association, Real Estate Development Specialist at CarrefourSA, Real Estate Development and Leasing Specialist at Best Buy. Between 2009 and 2011, he continued his career as a Rental Manager in the cities of Erbil, Beirut, Damascus, Abu Dhabi in Jones Lang LaSalle. Hakan Gümüş worked as a Board Member and General Manager at EA Gayrimenkul Geliştirme İnşaat Yatırım A.Ş. between 2011-2014. Completed Kartal Tower and Beykonakevleri projects. He developed and completed the Kağıthane Atiye Residence project as a Member of the Board of Directors of HAS-DBN Investment Trust in 2014. Since 2016, he has been the Chairman of the Board of Directors of Bosphorus Invest, which he is the founder of. In 2018, he acted as the corporate spokesperson of GABORAS (Real Estate Exchange Inc.).
Hakan Gümüş, who is currently the President of GISP (Strategy Platform for Real Estate), has a good command of English and French.